Deadline for 2021 Open Enrollment: Tuesday December 15
By Health Plans of NC Staff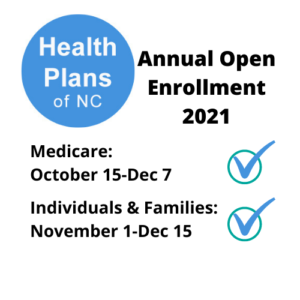 The 2021 Annual Open Enrollment Period deadline for Health Plans is only days away. Open Enrollment for Individuals and Families under 65 ends on Tuesday, December 15.
Do you still have questions that need to be answered? Our agents can help! 
Health Plans of NC Independent Agents provide full service by answering all of your questions when choosing a healthcare plan at NO COST TO YOU– including applying for financial assistance to reduce your cost. Why waste time searching for answers online when you can speak to someone directly and get quick and accurate information?
Our agents are with you through the entire enrollment process from plan comparison and selection, subsidy applications if applicable and any document uploads required. Our job is to make it as easy as possible for you to choose a plan that fits both your budget and healthcare needs for you and/or your family. We even have multilingual agents (Spanish and Korean) that can make the process go more smoothly.
Please reach out to the Health Plans of NC Independent Agent on this webpage TODAY for an appointment if you'd like to review your coverage, if you are planning on making some changes or if you'd like any additional information; we're here to help. The December 15th deadline is right around the corner!
———————————————————
Contact the Health Plans of North Carolina Independent Agent on this webpage to learn more during open enrollment for Medicare or Under 65 for Healthcare for Individuals and Families.